Current and Future Downloadable Content (DLC) and Events
The following free paid game updates, event and DLCs are planned for future release by Klabater from 2020 onward.
Digital Goodies Pack (2019–)
A "Digital Goodies Pack" was made available on Steam game release for $9.99. This pack includes the "full" extended soundtrack, an expanded digital cookbook, Delcrys map, concept art, a new Martyn skin, and mp4 "Tales from the Tavern" recordings.
Season Pass (2020–)
Additional downloadable content for the game is planned for 2020 onward, and is currently available for pre-purchase on the Steam store in the form of a Season Pass for $19.99. It can also be purchased in a bundle with the base game (Crossroads Inn - Artisan Edition) for $35.98.
As of November 2019, the paid DLC for 2020 is slated to contain:
"Pets and Puppies" (estimated release late Jan 2020)
"The Pit" (April 2020)
"Hooves & Wagons" (Jun 2020)
"Bath and Beuty (sic)" (Sept 2020).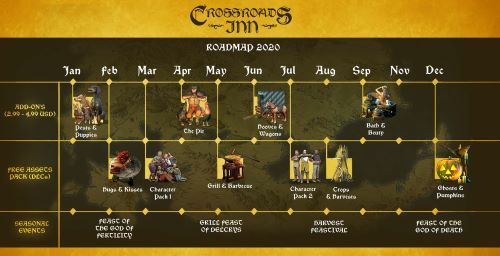 Planned free DLCs
"Free Assets Packs (DLCs)" are also slated for release in 2020. As of Nov 2019, the free DLC planned for 2020 includes:
"Hugs & Kisses" (Feb 2020)
"Character Pack I" (March 2020)
"Grill & Barbecue" (May 2020)
"Character Pack II" (Jul 2020)
"Crops & Harvests" (Aug 2020)
"Ghosts & Pumpkins" (Dec 2020).
Seasonal Events
"Seasonal Events' are planned from 2020 onward. As of Nov 2019, the future events planned are:
"The Feast of the God of Fertility" (Feb 2020)
"Grill Feast of Delcrys" (May 2020)
"Harvest Festival" (Aug 2020)
"Feast of the God of Death" (Dec 2020)