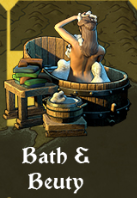 Bath & Beauty is a DLC for Crossroads Inn.
...You will be able to hire special NPCs who cure rare diseases. A guest got poisoned? No worries, you have a perfect solution! For a price.. But what if the guests want to stay healthy? You have a perfect solution for them too: a Bath-house! It's an ideal place to relax after a hard day of work. And while you're at it.. why not hire a Vedeta for a nice massage?
Community content is available under
CC-BY-SA
unless otherwise noted.