Welcome to the Crossroads Inn Wiki!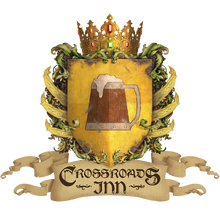 Crossroads Inn
is a simulator game of tavern management set in the original fantasy world of
Delcrys
, developed and published by
Klabater
. Crossroads Inn was successfully funded as a
Kickstarter
project on the 15th March, 2019, with 1,265 backers for a total of $38,641 pledged. The game was launched as a full release on the 24th Oct, 2019 on
Steam
.
Design your own medieval-style tavern, manage your budget and employees, order supplies, and better your tavern through a system of discoverable recipes and items. Use your economy to build, grow and outfit the tavern, and meet the needs of visitors and staff. Use your growing fame to spread your influence to towns and cities far and wide, attracting patrons and colorful characters from different walks of life. Use the gossip and intel you learn from visiting patrons to get discounts on goods, increase your technology, or get to know your staff a little bit better.
Crossroads Inn
Videos
About the CINN Wiki

This Wiki is new and under construction, and we need all the help we can get!
Join the CINN Wiki team and contribute as much or as little as you like. We've got beer, crappy food, and some "adventurers" looking for action. What more could you want? Za nas!
Pages needing work
Locations: Tells us about the land and the people of Delcrys
Gameplay Mechanics: A monumental task. Help us answer the questions both new and experienced might players ask.